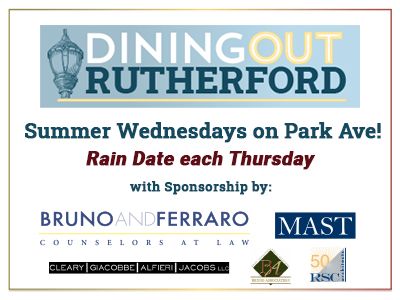 Rutherford is Open for Business!
With live music beginning at 6pm. Please check with the restaurants below to see if they are participating on a particular night:
Park Ave from the Library to Ames Ave will be closed from 5-11pm.
When dining out, it is strongly recommended that you make reservations so that our restaurants can better prepare for their evening. Please remember that business owners, staff and patrons are all creating a new normal as this chapter of reopening begins. Be respectful and patient with each other!
The Rutherford Police Department is requesting no bicycles within the closed roadways with dining areas. If you need to bring your bicycle into the event, you will be asked to walk it. Thank you for your cooperation in this matter.