Rutherford is Open for Business!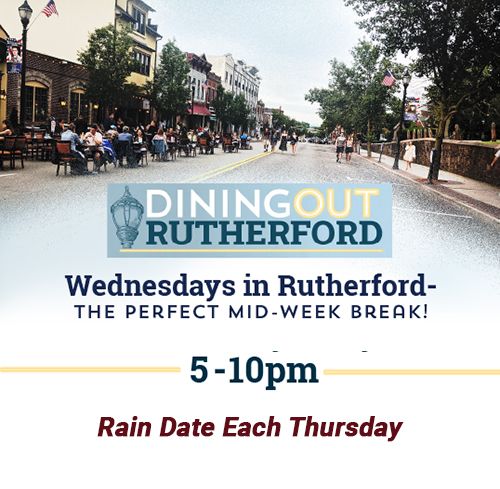 Due to tonight's weather forecast Dining Out Rutherford has been POSTPONED to THURSDAY, JULY 2ND. The following restaurants offer outdoor dining:
Yellowtail Sushi
Sonoma Bistro
Azteca
Suprema
Kabob on the Cliff
Volares
Steve and Andreas
Paisanos
Rutherford Pancake House
Mambo (Union Ave)
Ferazzolis (Union Ave)
Park Ave from the Library to Ames Ave will be closed from 4-11pm.
Dining Under the Stars 2020 will be an ongoing event on Wednesdays with a raindate of Thursdays. We will do our best to update you with street closures and participating restaurants and businesses as that information becomes available.
When dining out, it is strongly recommended that you make reservations so that our restaurants can better prepare for their evening. Please remember that business owners, staff and patrons are all creating a new normal as this chapter of reopening begins. Be respectful and patient with each other!
All participating businesses will comply with the regulations outlined by the Governor's Executive Order and the NJ Department of Health.
Are you a Rutherford business owner? See the link below where you can find necessary forms and information for operating outdoors. Email rvanwinkle@rutherfordboronj.com with any questions